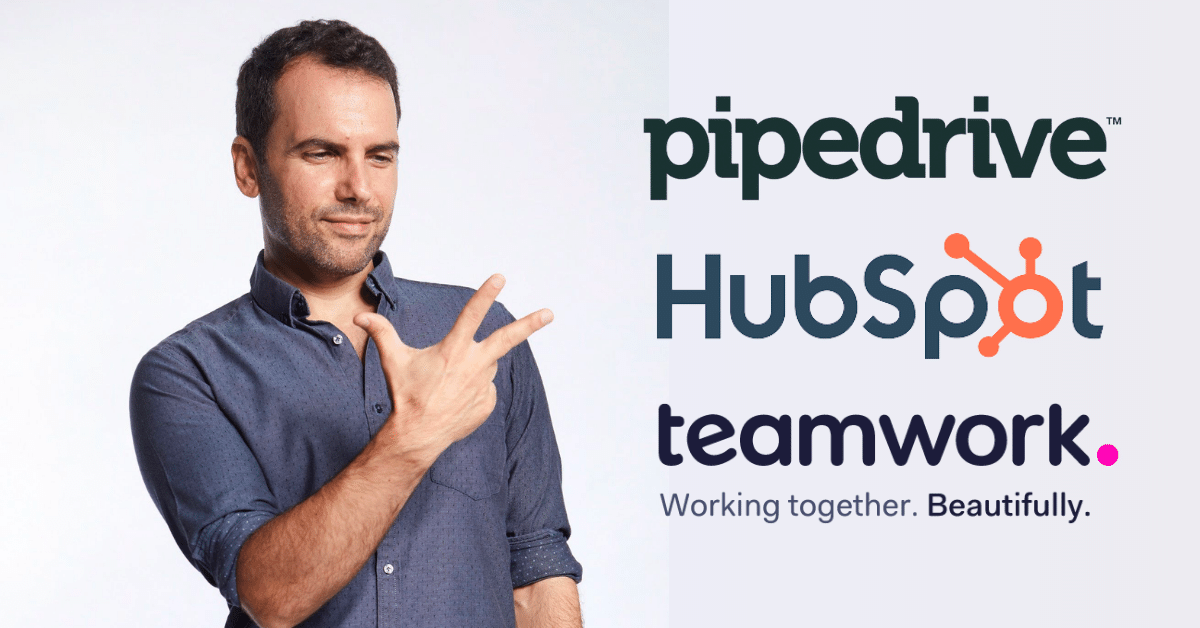 Best 3 CRMs for your Small Business
A CRM (customer relationship management) tool is vital for small businesses because it enables them to build relationships with their customers and generate loyalty and retention. This, of course, translates into increased business profits.
The benefits of using CRMs are several, the most prominent being that it helps marketing departments understand consumers better and add structure and automation to marcom and sales tactics, making them more efficient.
While many small business owners and executives know they need a CRM, finding the ideal one for their needs seems daunting. In this article, I will share my top 3 choices of CRMs that I consider most suitable for emerging companies.
Best CRMs for small businesses and why
I'll get straight to it and share my top 3 CRMs and why I chose those, later I'll break down a bit more specifically which ones does what best.
Pipedrive is the CRM for sales teams looking for a simple yet powerful sales tool to get them organized. This customer relationship management tool ensures strong pipeline management. Pipedrive is known worldwide as an established sales force automation software.
HubSpot is an excellent CRM for growing marketing-centric teams that focus on attracting and engaging their customers. The award-winning marketing starter is used by over 100,000 companies in over 120 countries and is widely appreciated as lead generation software.
Teamwork is an emerging favorite in Capterra's Small Business CRM Software category. The solutions work very well for companies with many projects or needing to manage many stakeholders. This is because the software helps companies organize processes, manage pipelines, report on their activity and increase sales functions.
Small Business CRM comparison
All three CRMs are user-friendly and have intuitive features. Out of all, HubSpot offers the highest level of customization, enabling users to benefit from a good experience, no matter the complexity of their work. Moreover, its drag-and-drop features make it an excellent choice for teams everywhere.
HubSpot offers the most training options, from in-person sessions, live training, and webinars to documentation and videos. Pipedrive and Teamwork CRM don't provide real-life, company-tailored discovery sessions, limiting their training support to a more generalist, one-size-fits-all approach. Still, the materials the two companies put at their customers' disposal are excellent sources of information that enable them to make the most of their CRMs.
The three CRM options help users streamline marketing and sales workflows by automating processes. Deciding which provides the best level of automation depends very much on the users' needs and preferences.
Pipedrive's Workflow Automation tool offers users access to a library of templates that enable them to streamline processes easily and set rules. For example, the deal may move to the next stage when a task is marked as done.
In what push notifications are concerned, Pipedrive offers you several options of which you can go with one or more choices, from in-app to email and mobile app messages that remind users of upcoming tasks and deadlines.
Moreover, the platform's built-in AI-powered mentor fosters performance by constantly assessing your team's activity and workflows and offering tips, automation recommendations, activity reports, and graphics.
Teamwork uses templates and kanban boards to map workflows, offer visibility on task progress and automate processes. Since these are fully customizable, they may be used regardless of your team's methodology or working styles.
Teamwork's Triggers feature enables admins to speed up their work by re-assigning tasks automatically, changing due dates, and sending notifications, whenever a task moves from one stage to another.
Pipedrive, HubSpot, and Teamwork all offer cloud, SaaS, and web-based deployments. Pipedrive and HubSpot users can also deploy their CRMs on Android, iPhone, and iPad apps. Moreover, Pipedrive is the only one out of the three that may be used on Mac, Windows, and Linux desktop applications.
Since they are the best CRMs for small businesses, they all benefit from excellent maintenance and continuous improvement.
Regarding support, Hubspot and Pipedrive offer customers many contact options, such as email and help desk, phone support, 24/7 live agents, and chat. Teamwork only offers chat support.
What some users particularly like about Pipedrive is its straightforward, easy-to-comprehend, customizable dashboard that offers visibility over the sales team's performance. Once accessed, this main panel allows users to go more in-depth, so they may analyze information for different types of products, create conversion and deals insights, and set benchmarks.
HubSpot is significantly more generous in terms of features, as the platform offers more complex reports, dashboards and cycles. This level of capability comes with additional costs. If your marketing and sales teams use this same CRM, you get a clearer, more accurate view of the buyer's journey.
Teamwork enables users to get a real-time view of each project's and customer's performance and track budgets and profitability. Moreover, the platform may be set up to send notifications when the project budget reaches critical thresholds.
If you have no budget to allocate and are looking for the best free CRM for small businesses, then HubSpot is your choice. This is the only CRM platform out of the three that offers a free plan.
Still, if you need additional features, this choice might turn out to be a more expensive one. The HubSpot plans start at $46 / month.
Pipedrive offers you a 14-days free trial. Its Essential plan has an entry point of $12.50/user/month, while the Advanced one, which gives you access to all the automation features, is $24.90/user/month.
Teamwork also has a free trial for its users. After that, if you decide to keep using, the monthly user fee starts at $12.5.
Choosing a CRM for your business
At the end of the day, one man's CRM is another's pain in the a**, there's no guarantee that any of these CRMs are going to be the perfect match to your needs, different teams and individuals prefer different methods and connect with different UX/UI and tool types.
Start with the one that seem to suit you best and give it at least 6 months of good effort, to work with a less than ideal CRM is still better than working with Emails and Excels!
Start with the one that seem to suit you best and give it at least 6 months of good effort, to work with a less than ideal CRM is still better than working with Emails and Excels!
When I start a new business, I would usually go for Hubspot's marketing starter version and that should be enough for the first year.
Hope this helps!
BTW: If you're already using a CRM and you're baffled about the difference between MQLs and SQLs, read this!
Recent Comments
No comments to show.